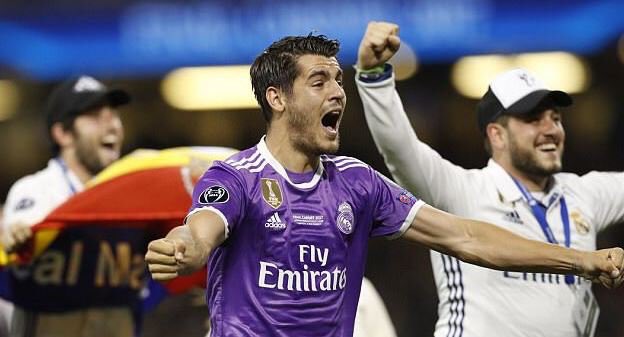 Manchester United have been linked heavily with the signing of Spanish forward Alvaro Morata this summer, with reports of the club having a €60m bid rejected this week.
The club are desperate to sign a new striker to lead the line after the collapse of a move for Antoine Griezmann earlier in the window, while Zlatan Ibrahimovic and Wayne Rooney are expected to leave the club this summer.
Morata's name as the number one target has been met with dismay by some sections of support, but why?
The Real Madrid striker isn't a superstar nor a household name, while his inflated asking price of around €90m has certainly raised eyebrows. His goal record doesn't stand out among the elite in the world, while his status as a non-regular during spells at the Bernabeu and Juventus also has United fans questioning their manager once more.
However, when you look into it a bit further, Morata could be exactly the man to help Manchester United back to glory under Jose Mourinho.
At 24 years old, the Spanish international already boasts a pretty impressive CV. Joint second top goalscorer at Euro 2016, a goal in Juventus' Champions League final defeat to Barcelona in 2015 and the winning goal in their Coppa Italia final win against Milan the following year all show that he is capable of performing on the big stage. Add to that an impressive goal/mins ratio last season in La Liga bettered only by Barcelona's king Lionel Messi, despite starting just 14 games.
He also finished second behind Cristiano Ronaldo in Real Madrid's scoring charts, boasting 20 goals in all competitions from 39 appearances (17 starts). While those stats don't jump off the page as a player who'll cost between £60-70m, nor a man who will lead the line of attack at Manchester United, it's the attributes he brings elsewhere that could make his signing a masterstroke.
When Jose Mourinho handed Morata his senior debut at Real Madrid, he singled him out for praise and insisted that the club's board offered him a full-time contract as soon as he was eligible.
"The one who gave him his debut? That was me. The one that made sure he was part of the pre-season tour three years running? That was me. The one who made sure he did not leave the club? That was me. The one who told the club they should give him a first-team contract? That was also me," Mourinho said (according to Squawka).
He obviously rates him, that much is clear. The reasons why are pretty obvious too. At 6ft 2, Morata is an ideal target man for a Mourinho side. The ex-Chelsea manager has always been keen on having someone up front who can hold the ball up and compete aerially, as previous strikers Didier Drogba, Zlatan Ibrahimovic and Karim Benzema have all shown.
Morata is also deceptively quick, with and without the ball. While he's no Marcus Rashford, Morata comfortably outpaced the Bayern Munich midfield and backline, managed by rival Pep Guardiola, while playing for Juventus during their 2015 Champions League semi-final win over the German side. Morata picked up the ball in his own half, drove towards goal with the ball at his feet beating 4 players for pace, before laying the ball off perfectly for Juan Cuadrado to finish.
This flexibility would allow Mourinho to change his tactics and approach to games without changing personnel, something he wouldn't have been able to do this season with Zlatan Ibrahimovic wearing the No.9 shirt.
Apart from goals, Morata's link up play and creativity are also underrated. A young player with such a high footballing IQ is rare to see these days, but his understanding of space and how best to help the team suit Mourinho's disciplined approach perfectly.
His eye for a pass was shown in a Real Madrid shirt this season with 7 assists in all competitions to go with his 20 goals. With United's goalscoring players in advanced positions stacked, the likes of Mata, Mkhitaryan, Rashford, Martial and Lingard could all prosper from a more selfless striker ahead of them.
Whereas Zlatan had a tendency to drop into a false #4 position splitting his own CB's to get on the ball in a tight game, Morata poses the threat of running in behind as well as an aerial threat and receiving the ball in tight areas. Fans who struggled to accept Ibrahimovic's tendencies will be much happier with Morata's varied approach.
While he's not the biggest name on the market and wouldn't break any shirt sales records should he move to Old Trafford this summer, Manchester United fans would be lucky to see a player join the club that fits the clubs needs more that Morata in the central striking position.